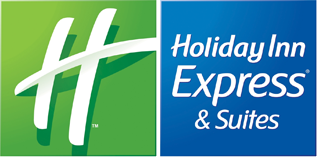 Kerrville History
Namesake Pioneer Never Saw Kerrville
In1856, Kerr County was authorized by a new legislative act that the new county be named in honor of "James Kerr, the first American settler on the Guadalupe River."  But Kerr County could have been logically named Brown County for the first settler of Kerr County, Joshua Brown (1816-1874).
Kerr County could have been named Brown County or any other countless variations that could have been proposed by early settlers of many different nationalities.  But by a common consent for the areas pioneers and through the efforts of a respectful friend, the new county formed from a large chunk of Bexar County, was named Kerr.
The name Kerr honors soldier, statesman and surveyor, Major James Kerr, born in Kentucky on September 21, 1790. Josh Brown was a close friend of the Kerr's and a settler of Gonzales, a settlement that Kerr had founded.

While Kerr was a young child he and his father Rev. James Kerr moved to Missouri. Kerr was a young soldier who fought in the War of 1812, under Captain Nathan Boone, and became a Lieutenant.  At the culmination of the war Kerr returned to Missouri, where he was elected Sheriff of St. Charles County. Kerr eventually settled in Texas and it is believed that he never stepped foot in the county that bears his name. (More information on Major James Kerr below)
Joshua Brown, known as the "Father of Kerrville," was recorded as the first actual settler to make his home on the upper Guadalupe River.  Brown, born in Kentucky in 1816, came to Te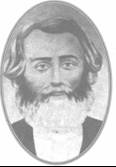 xas in 1830.  During the Texas Revolution, Brown joined Sam Houston's army and fought at the Battle of San Jacinto where victory and independence were won for Texas.
When the army disbanded, Brown went home to Gonzales and married Miss Sarah Jane Goss. In 1844, they started west in search of a new home. Their first stop was Curry's Creek, an early settlement that is now in Kendall County.  It was there that he took up the craft of shingle making; he soon decided to move to a more suitable area for the craft.
In 1846, Brown was determined to investigate a report of giant cypress trees, said to be near the headwaters of the Guadalupe River. He found the trees within only one day's horse ride. Shortly thereafter Brown convinced a group of 10 shingle makers to go with him to develop one of the first shingle camps in the territory. 
Some people believe that Kerrville was originally to be named "Brownsburg" but postal authorities claimed that there were already too many towns beginning with the word Brown.  The name was then changed to "Kerrsville", in honor of Major James Kerr.  The "S" was dropped from the name in January of 1866 during a special session of the City Council, called by Alonzo Rees.
Ever since the early days of the cattle drives the small town "Brownsburg" then "Kerrsville" and now Kerrville, has evolved from a shingle makers camp to a thriving historical city with many year round activities.  The town of Kerrville, and the surrounding area, is loaded with historical sites where events occurred that have shaped the history of Kerrville.
Historical Kerr County Influences:
Sid Peterson
Sid Peterson was born in Lavaca County in 1868, then moved with his family to Kerr County in 1882.  Only 14 during the move, he knew that he wanted to be a rancher.  He broke horses for the Schreiner Ranch, drove cattle on the Chisholm Trail and cleared land for the railroad.  Peterson became a pioneer rancher in the Hill Country by acquiring thous
ands of acres of ranch land. 
Peterson had three sons, Joe Sid, Hal and Charlie.  They also worked on ranches and then became involved in a variety of different businesses such as real estate, ranching, and a bus company  later to be known as the Kerrville Bus Company.
In 1939, Sid Peterson died of heart complications in San Antonio, Texas.  From that point on his sons supported the construction of a hospital in honor of their father, which opened in 1949.
When the hospital opened its doors it fulfilled the dream for two of Peterson's sons to preserve the legacy of their father while also serving the Hill Country community.
Captain Joseph Tivy
Joseph Tivy was born in Canada,  grew up in New York, and in 1837 came to Texas as a surveyor.  Tivy made the first field notes for the state land office on many tracts of land along the Guadalupe.  His job as a surveyor kept him in constant danger.  Tivy could handle these dangers with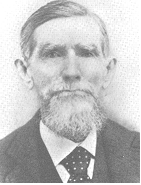 the training he has received as a Texas Ranger. 
In 1883, Tivy served as trustee of the Kerrville School Association. It was at this time that Tivy realized that Kerrville needed a permanent public school and donated 100 acres of land to the cause. 
Tivy was named the first Mayor of Kerrville when the city was incorporated in 1889.  Construction of the new school began in the fall of 1890 and the first class was held in March of 1891. 
Captain Tivy died in 1892 and was buried beside his wife on top of Tivy Mountain. His life made a permanent impression on Kerrville: a street, high school and mountain all bear his name today.
Howard E. Butt
Howard Edward Butt was born on April 9, 1895, in Memphis Tennessee.  His father, C.C., suffered from tuberculosis. The belief at the time was that the dry climate of the Texas Hill Country was therapeutic for that particular illness. With this in mind Mr. C.C. Butt moved his family to Kerrville.
 In order to support her family,  Mrs. Florence Butt purchased wholesale groceries and opened a small store in 1905. The Butt family lived upstairs in rented rooms above the store.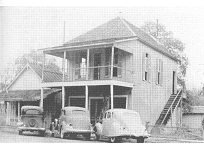 Howard, the youngest of three boys, was  interested in the grocery business so he helped his mother with the store.  At first the store was a charge and delivery store;  Howard would deliver the groceries to the customers using a wagon and later on horseback.
In 1914, Butt graduated from Tivy High School and then enlisted in the Navy and served in WWI.  In 1919, he returned from war and helped his mother with the business. On December 5, 1924, Butt married Mary Holdsworth of Kerrville.  Butt expanded the business started by his mother with the opening a store in Del Rio; the company then began to expand throughout the Rio Grande Valley.  In 1935, Butt began calling the stores H.E. Butt grocery and then in 1946, he changed the name to H-E-B. 
Along with his grocery business, Butt was also a very generous person; he established the H.E. Butt Foundation, which is one of the earliest philanthropic foundations in Texas.  Butt passed away at the age of 95 in 1991, in Corpus Christi. At his death there were over 170 stores bearing his name.
Major James Kerr
Kerr was elected to the Missouri House of Representatives and in 1824 became a senator by defeating the incumbent, his father-in-law, Major Caldwell. From that time on, Major Caldwell refused to speak to Kerr.  This, coupled with his wife's failing health, prompted Kerr to resign his senatorial post and make plans to move to Texas, where he accepted a post as surveyor for Green Dewitt who with Stephen F. Austin were colonizing  Texas.
Kerr, his wife and three children arrived in Brazoria in 1825, Kerr was in what is now Gonzales County, seeking a suitable site for the family's home in DeWitt's colony but Kerr's wife and one of their

children died before they could get to the colony.
In 1833, Kerr, who had become the first American to settle on the Guadalupe, married again. In 1835, Kerr presided over a meeting on the Navidad River, which declared in favor of  independence from Mexico.  He was also elected to the third convention Nov. 3, 1835, which chose Henry Smith as governor. Kerr was named a member of the legislative council.
He was elected to the convention at Washington–on the Brazos that declared for the independence of Texas American Settlement; however, his name does not appear among the signers of that document.  Kerr had hurried home to assist in moving settlers from the DeWitt Colony, which was directly in the path of Santa Anna's march across Texas to the Alamo.
In March 1836, President David G. Burnett appointed Kerr a Major in the Republic of Texas Army.  In 1838, after independence was won, he was elected to the Third Texas Congress.
The last years of his life were spent on his plantation in what is now Jackson County, where he died of pneumonia on December 23, 1850.  His grave is on the South Bank of the Lavaca River, south of Edna.  A state historical marker near the site was dedicated in his honor in August 1971.
Captain Charles Schreiner
Charles Schreiner was born on February 22, 1838 in Alsace-Lorraine, France.  In 1852, Schreiner, his parents and 4 siblings immigrated to the United States and eventually settled in San Antonio, Texas.
 When Schreiner was sixteen, he joined the Texas Rangers and served in campaigns against the Indians.  He also served with the Kerrville Mounted Rifles and was given the title Captain, which remained with him for his lifetime.
 In 1857, Schreiner and his sister's husband, Caspar Real, acquired land and built a log cabin along Turtle Creek, near the town of Kerrville and started a ranching business.
 In 1860, Schreiner applied for U.S. citizenship and on October 1st of that same year he married Mary Magdalene Enderle. Not long after his marriage the civil war broke out. Schreiner enlisted in the Confederate Army and served 3 ½ years with the Trans-Mississippi Army under General Walker.
 When the war ended, Schreiner returned home to his wife and first born son Aime Charles.  The war years had been hard on the ranch on Turtle Creek, so Schreiner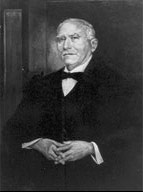 moved his family to Kerrville.  In 1866 Schreiner was elected County Clerk and served for two years.  At the end of his 2 year stint, he was elected County Treasurer and held that office for the next thirty years.
In 1869, Schreiner and August Faltin, a merchant from Germany, started a mercantile store.  Faltin put up the capital of $10,000 to start the business. Schreiner and Faltin signed a ten-year contract as partners. The contract said after the ten years Schreiner would pay back the money and the business would be his. From the mercantile store the Charles Schreiner Company expanded into the wool & mohair business and also a bank.
 In the late 1870's Charles Schreiner built a home that reflected his position in Kerrville.  It was built using expert German masons for the decorative stonework.  The home is located on Earl Garret Street and  is now the Hill Country Museum.
In 1880, using the profits from his store, Captain Schreiner decided to invest in land and livestock.  He purchased a ranch, which would later be known as the Y.O. Ranch.  Along with purchasing the ranch he also purchased the Y.O. brand that was being used on the ranch.  With that brand Schreiner wouldn't have to re-brand all of the cattle on the ranch.  Ever since that time the Y.O. Ranch has been synonymous with the Schreiner family.  In 1900, at the peak of Schreiner's ranching career, he owned 600,000 acres on which he raised cattle and goats.  Schreiner would make Kerrville the wool and mohair capital for many years.
In 1917 Schreiner divided his holdings, which included 566,000 acres of land, among his eight children. Aime Charles, Gustav Fritz, Louis Albert, Caroline Marie, Emilie Louise, Charles Armaud Jr., Walter Richard and Frances Hellen. Aime Charles Schreiner received the mercantile store, Gustav received the ranching interests, Louis received the bank, and his daughters received land in Kerr County.
The turn of the century was approaching and Kerrville needed a new bank, one with new technology, including a new safe.  For the first year a bank was in operation, the bank employees stored the money under a loose floorboard in the bank until they got a safe. The Chas. Schreiner Bank was located across the street from the store.
Captain Schreiner was highly involved in his community, donating money to schools, churches, road improvements and public endeavors.
One of his many gifts to the Hill Country was his donation of 140 acres and $200,000 to build a military school.  He approached the Presbyterian Church in 1914 and proposed his idea to establish the "Charles Schreiner Institute for Boys" and in 1917 after much negotiating the church began building the school.  In 1923, the first students arrived and the school has grown and evolved over the years.  In 1971 the military school was discontinued and Schreiner Institute became Schreiner College, a two-year junior college and in 1984 the school became a four-year liberal arts college. 
On February 9, 1927, Captain Schreiner passed away. At his death Schreiner held many positions in Kerr County.  His legacy continues through his unending generosity.
Texas Ranger Cemetery: Historical Information
Located in the Texas Hill Country, on Texas Highway 27 between Kerrville and Comfort, is the small community of Center Point.
At the edge of town, going toward Camp Verde (Hwy. 480), is the town's cemetery.  It is the final resting place of more than 30 former Texas Rangers.  There is no other known cemetery that contains that many Texas Rangers.  All of the rangers buried there served in the late 1800's and many of them were early settlers in Kerr County.
The three most noted Rangers in the cemetery are Captain Neal Coldwell, Lt. N.O. Reynolds, and Andrew J. Sowell.
Captain Neal Coldwell was given command of Company "F" when the Frontier Battalion of Rangers was organized in 1874 under Major John B. Jones.  The company of 75 men was sworn in on July 4th, 1874, in Kerr County.  In 1879, Coldwell was designated quartermaster of the Frontier Battalion and in 1883 his service on the frontier came to an end.  During his career, he fought many successful battles with Indians and outlaws.
He died as he lived, a courageous, righteous and fearless gentleman and ranger, on November 1, 1925, at th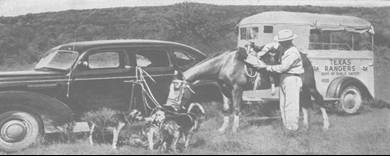 e age of 81.
Lt. N.O. Reynolds enlisted in the Frontier Battalion on May 25, 1874 and served under Captain Dan Roberts, Captain Neal Coldwell, and for the first time served with the escort of Major John B. Jones.  Although he saw action against Indians, his most famous exploits were in action against outlaws. Lt. Reynolds was noted for capturing the Horrell gang in Lampasas County and he also participated in the capture of Sam Bass in Round Rock.  He was responsible as commander for transporting and guarding the notorious John Wesley Hardin during his trial and incarceration in the Travis County jail.  He resigned from the Rangers in 1879 in Kerr County and died on March 1, 1922, at the age of 75.
A.J. Sowell was a native Texan, born in 1848 in Seguin.  His father served in the Texas Rangers under Captain Jack Hays. Sowell followed his fathers' footsteps and joined the rangers in 1870.  He took part in the campaign against the Wichita Indians in 1870-71.  As a ranger he scouted, trailed and participated in Indian fights, which he later recorded in his writings.  His books include: "Rangers and Pioneers of Texas" (1884), "Early Settlers of Southwest Texas" (1880), "Life of Big Foot Wallace" (1899).  He died in Center Point in 1921, at the age of 73.  His books are classics for the study of early Texas and can still be found at the Kerrville Public Library.
A Texas Historical marker marks the entrance to the cemetery, which was dedicated during the Texas Sesquicentennial in 1986.
Kerr County World War I Heroes
Kerr County soldiers served in a range of Navy, Army, and Marine units, but the vast majority served as volunteers.  In World War I,  three Kerr County heroes gave their lives in the "war to end wars." They were First Lieutenant Earl Garrett, Private Sidney Baker and Private Francisco Lemos. 
Soon after war had been declared in April of 1917, Captain Charles Seeber began recruiting men for the Texas National Guard.  The unit quickly filled with 103 volunteers and began their training in the summer of 1917. By September 1917 the men were finished with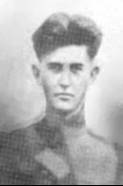 training and were shipped out to war.  Of those 103 men, few would ever return home.
Private Sidney Baker was the second resident of Kerr County to die in action; he was killed on October 15, 1918 in the Argonne Battles in France.  Sidney Baker Street, also known as Highway 16, is one of the main streets in town.  The street runs north and south through downtown Kerrville.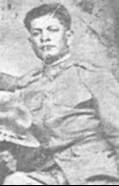 Private Francisco Lemos was the first resident of Kerr County to die in action; he was killed on September 15, 1918 in France.  Kerrville proudly honored Lemos by naming a street for him; Francisco Lemos Street crosses Main and Water Streets as well as providing a bridge across one of the prettiest areas of the Guadalupe River. There is a headstone for Lemos in the Mountain View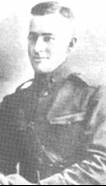 Cemetary.
First Lieutenant Victor Earl Garrett was the third resident of Kerr County to die in action.  Garrett was attached to the 28th infantry First Division and is buried in the American Cemetery in Romaigne, France.  Earl Garrett  Street runs parallel to Sidney Baker Street in the heart of downtown Kerrville.
Jimmie Rodgers "The Father of Country Music"
Jimmie Rodgers was born on September 8, 1897 in Meridian, Mississippi, the youngest of three boys. His mother died when he was very young, and for the next few years Rodgers lived with many different relatives; eventually moving in with his father, Aaron Rodgers.
Rodgers was a railroad man. When Jimmie was 14 he carried water in the rail yards while learning the songs of the men who worked there.  From his mid-teens to mid twenties, he worked all over the south and west.  His various train jobs carried him to Memphis, Chicago, St. Louis, New Orleans, Birmingham, and Dallas.
Rodgers continued working on trains and eventually became a brakeman.  One of his tasks as brakeman was to throw hobos off the trains.  "Get off, get off, you railroad bum…", a line from one of his songs, describes this part of his job. However, he always had compassion for railroad bums and it is said that he often gave them money for a meal.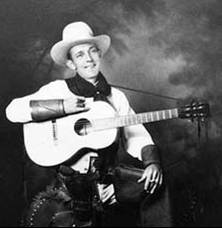 As happened with many railroad men, the coal smoke caused Rodgers to develop tuberculosis.  The disease that ended his career also allowed him to pursue his first love, entertainment.  
It was because of his good friend Gene Austin of "My Blue Heaven" that Rodgers decided to move to Kerrville for his health.  It was the high climate, low humidity, and sanitarium that brought Jimmie Rodgers to Kerrville. Jimmie's sickness made him seek a new way of earning money and it was in his singing that he found his true avocation.  With blues music as his inspiration, he began his career in 1924.
He built his mansion on a hill in Kerrville and called it "Blue Yodelers Paradise." His costly illness, however forced him to sell his home in Kerrville and move first to San Antonio, then finally to Tennessee.  He died in 1933 at the age of 35. 
His last recorded song was "Yodeling My Way Back Home." In 1961, he was the first country music star to be elected into the Country Music Hall of Fame and is named the official "Father of Country Music".
In Kerrville, over 100 musicians of all ages gather every year in September to honor the birthday of Jimmie Rodgers.  The house on the hill in Kerrville (617 West Main Street) is the only visible sign that Jimmie Rodgers lived and entertained in this area.  Through the spirit of his songs and compassion for the less fortunate, Rodgers left his mark on the world.
For more historical information on Kerrville and Kerr County contact:
Butt-Holdsworth Memorial Library
505 Water Street
Kerrville Texas 78028
(830) 257-8422
Kerr Regional History Center
425 Water Street
Kerrville Texas 78028
(830) 257-8817

Kerr Country Historical Commission
700 Main Street, Suite 122
Kerrville, Texas  78028
(830) 896-5320 
Sources:
 Kerrville Daily Times Roundup Series (1995 & 2000)
 HEB History: as posted on www.heb.com
 Sid Peterson Hospital: as posted on www.spmh.com

For tourist information or group tour, meeting, retreat
& convention information, call the visitors center at
800-221-7958 or 830-792-3535
Click below to contact us by email

The visitors center is open 7 days a week
Monday-Friday 8:30am-5pm, Saturday 9am-3pm, Sunday 10am-3pm
2108 Sidney Baker
Kerrville TX 78028